Description
Lawrence Jordan & Richard Sanchez – Feature Film Assistant Editor Immersion 1.0
Feature Film Assistant Editor Immersion 1.0 – LEARN THE PROFESSIONAL FEATURE FILM & TELEVISION EDITING WORKFLOW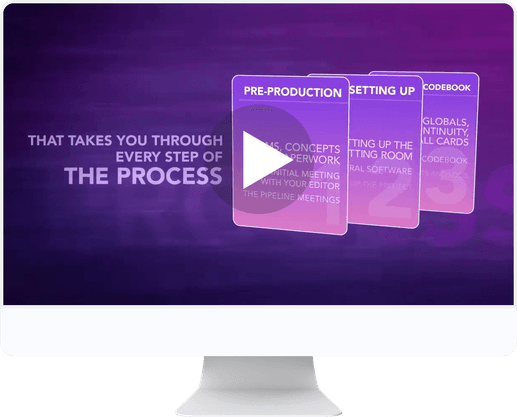 Jumpstart your career in feature films and television for the major Hollywood studios, networks and streaming services.
3 REASONS YOU SHOULD START THIS COURSE TODAY
By 2024 ALL streaming services will be available worldwide.
In 2020 streaming services won 2.1 billion dollars, 37% more than the previous year.
The competition is FIERCE! Warner Media, Disney, Apple and others all launched new streaming services. Film & TV production is at an ALL TIME HIGH!
What You'll Learn Inside
01 – Module
Pre-Production
-Terms, concepts and  paperwork
-Initial meeting with your   editor
-The pre-production and   post pipeline meetings
-Setting up the cutting      room
-Peripheral software        needs
-Setting up the project
-Avid project layout and  bin organization
-Avid ISIS organization
and workspaces
-Globals, continuity, wall    cards & shoot progress      reports
-The Core Codebook –          Walkthrough
-The Core Codebook –   Continued
-Lists & Logs – 1
-Lists & Logs – 2
-Reports
-VFX Database
-Petty Cash Tracker
-Lab Dailies
-Syncing Dailies Manually
-Dailies – Continued
-Using ScriptSync
-Dailies Paperwork
-Music & Sound FX         Organization
-Visual Effects Prep &       Tracking
-Editorial – Part 3
-Spotting Sessions
-Previews & Test
Screening
-Editing Room     Diplomacy
-Visual Effects
-Picture Turnovers
-Change Lists &
Re-balancing
-Sound Turnovers
-DI Stage, Mix Stage,
Deliverables & Wrap-up
MEET YOUR INSTRUCTORS
Lawrence Jordan is an Emmy & ACE Eddie nominated feature film and television editor who has worked on over 50 feature films and television shows and is the co-creator of Master The Workflow. As one of the earliest adopters of digital, non-linear editing, he helped lay the groundwork for the modern editorial workflow. He recently completed the independent feature film Later Days.
Richard Sanchez works as both a visual effects editor and an assistant editor. He's assisted on the films Suicide Squad, Robin Hood and Naked, and on the television series Table 19, The Good Place and UFO Hunters. More recently he was the visual effects editor on Hulu's Catch-22 and Bill & Ted Face The Music. He is currently working on a new series for Marvel Studios.