Description
Shawn Blanc – The Focus Course
THE FOCUS COURSE
A PROVEN WAY TO FIND CLARITY AND GAIN TRACTION
Living a focused life should be your normal lifestyle. But sadly, most people consider it a pipe dream or a luxury.
Imagine being so focused at work that you're able to clock out at the end of the day and not bring work home with you in the evenings or on the weekends. What would you do with all that time?
Wouldn't it be awesome to have breathing room in your day so you could rest and recharge? Imagine how much of a positive impact that would have on your work and family life.
Heck, it'd be great to just routinely finish what you start.
Aren't you tired of reading about productivity and focus without seeing real change in your life?
Sadly, for most people, a life of focus and margin is little more than a distant wish long forgotten.
Most people bring work home with them. They do not make progress on their goals. They do not finish what they start. And they do not feel in control of their schedule and their time.
But not you…
The Focus Course is a guided, online video course that gives you the foundational components you need for living a focused life.
Instead of pitting work and personal life against one another, you will learn how to do your best work without sacrificing anything between your work and personal life.
You will be able to get maximum clarity in every area of your life, and then bring those areas into alignment. (In other words, the very definition of focus.)
Learn by Doing
What sets the Focus Course apart is its action-centric approach. You will learn a ton of theory and wisdom that's surrounded by action. Through each day's actions you'll take the wisdom from the course and apply in your everyday life.
After signing up for the Focus Course, you will get instant access to all the material. The Focus Course paces you in such a way as to make things fun and simple for you. The whole process is guided — all you need to do is show up and watch that day's video, which is only a couple of minutes long. Believe it or not, The Focus Course takes just 15 minutes or less per day.
Because you get lifetime access, there is no pressure to stick to a timeframe. The website keeps track of your progress for you so you can start when you're ready and move at your own pace.
After completing the course, you will have: a vision for your life; clear goals for the areas of your life; more control of your time each day and an ability to keep things in a healthy balance; the tools you need to make progress over the long run and not fizzle out.
YOUR BEST WORK, WITHOUT SACRIFICING BALANCE.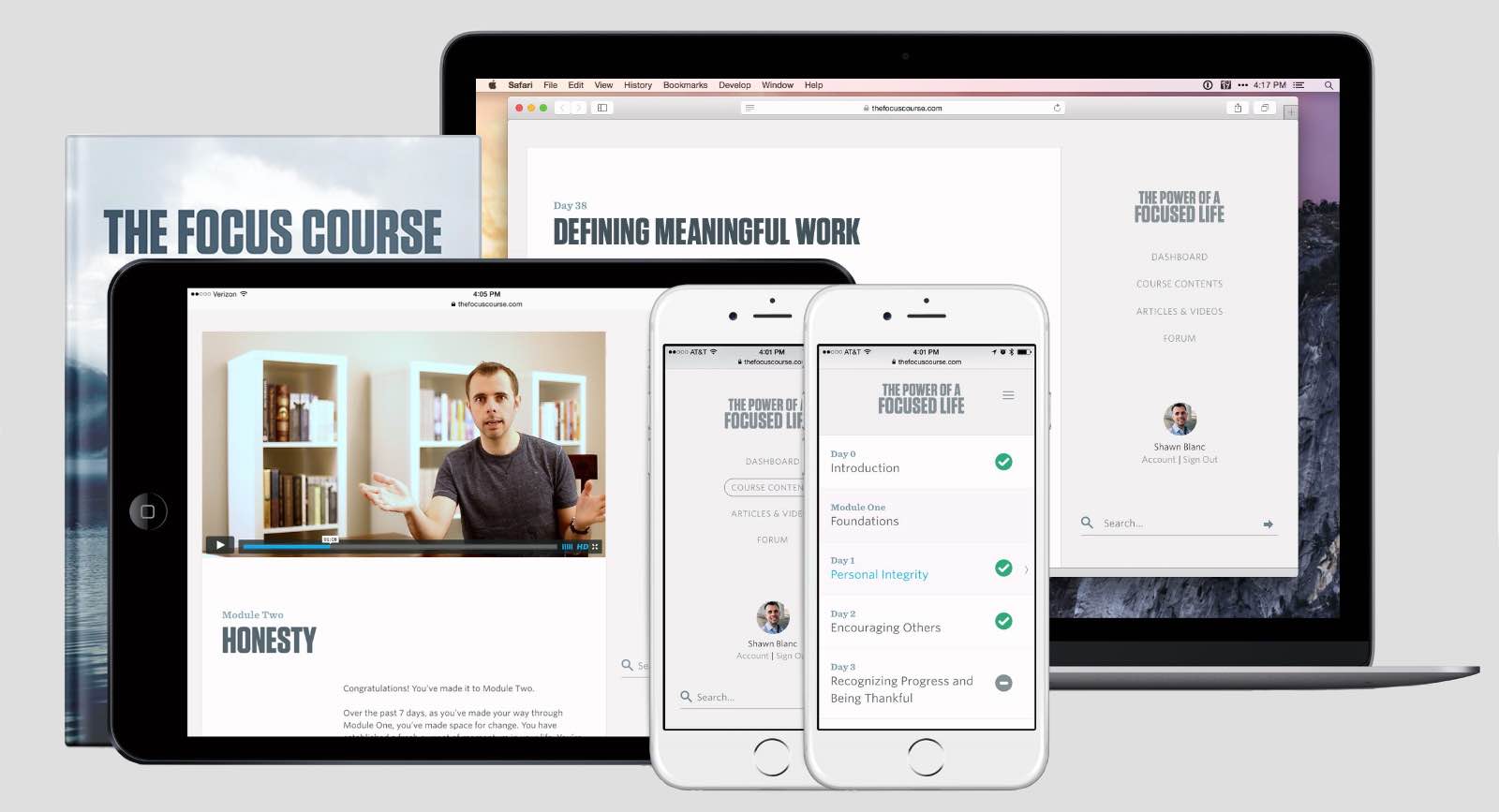 What's Inside The Course
47 teaching videos that accompany every single day of the course and every Module introduction.
Module One: FoundationsDays 1-7 focus on personal integrity, creative imagination, progress, reducing distractions, building social support, generosity, and simplifying.
Module Two: HonestyDays 8-17 focus on who you are and what's important to you; roles, values, vision, legacy, short- and long-term goals, and how to realistically move toward them.
Module Three: ClarityDays 18-28 focus on how you're currently spending your time and energy, what your potential is, and how to apply change and begin making progress.
Module Four: Action (and Resistance)Days 29-34 focus on the most common areas of resistance and how to overcome them.
Module Five: MeaningDays 35-40 focus on joy, fear, meaningful work, finding flow, margin for thought, and community.
Day 41: ConclusionThis wrap-up day will help you take your new ideas, understanding, and life changes and maintain them for the long-run. I also share advice on how to stay motivated and keep making forward progress after the course is over, and doing work that matters.
BONUSES Include
23 additional videos and articles ($97 value) where I answer the most common questions and struggles related to focus, time management, work/life balance, and doing meaningful work.
Downloads: HD videos, PDF Workbooks, goal-setting worksheets, time-management worksheets, the Habit Tracker, and more…
Go at your own pace and track your progress on the website. Or download the 273-page PDF workbook and read the course on your iPad, computer, or even print it out.
Lifetime access: start when you're ready, take your time, and go through again in a year from now.
60-Day, Money-Back Guarantee: If you're not delighted by the course, I am happy to give you a full refund, no questions asked.
Shawn Blanc
Your Guide
Hello. My name is Shawn and I am honored to be your host and guide through The Focus Course.
I'm a writer, small-business owner, productivity coach, and creative entrepreneur living in Kansas City with my wife and our three boys.
For more than a decade, I have been learning and teaching about creativity, diligence, and focus. I've spoken about these topics at conferences and workshops, and my online courses have helped thousands of people.
My Story, Briefly
I used to work 80 hours per week. And even with all those hours, I still felt trapped by the never-ending issues of my work. I kept thinking that I would eventually get ahead of the craziness and start making progress on meaningful work.
Eventually I quit my job to begin working for myself. But even still I found that I was always chasing my to-do list. I never felt satisfied at the end of my work day; there was always more to be done. Work was always on my mind.
When my son was born, I realized I needed do to better. I didn't want my work life to dominate my time and energy. But, at the same time, I still had a strong desire to do meaningful work.
These seemingly-opposing forces shouldn't have to fight one another. I knew it was okay to have a thriving work life while also having an awesome personal life.
We live in an age where the Internet lives in our pocket, and it seems like everyone everywhere is both distracted and in a hurry.
I've examined my own habits, studied many other solutions, and rigorously tested different approaches over and over again. And I have worked hard to create a lifestyle that is conducive to doing my best creative work without sacrificing my personal and family life.
What I teach in the Focus Course is the same thing that has allowed me to grow a thriving business, do meaningful work that I'm proud of, and give time to my family.
It is how I keep all the areas of my life in harmony and thriving, despite the craziness that is naturally found in day-to-day life.
I have been teaching about creativity, focus, and time management for over a decade. Our online workshops and courses have helped thousands of people regain focus, improve how they spend their time, and start making traction with their goals.
The material in The Focus Course changed my life. It has changed the lives of so many others who have already taken it. And it can change your life, too.
Sale Page: https://thefocuscourse.com/course/
Proof: