Description
Body and Mind Are One – Thich Nhat Hanh
Throughout this online training program, Thich Nhat Hanh will guide you through the core concepts, meditations, and daily life practices for experiencing presence, healing, loving connection with others, deep insight into yourself, liberation from suffering, and the discovery of the ultimate realm of peace and wonder, in the here and now.
Open to the Wonders of Life Through Mindfulness and Concentration, the Gateways to Direct Insight
Session 1: The Energies of the Buddha
We have the power to connect with the present moment—and to see that everything we are looking for is available to us in the here and now. In this session we first come together with a chant to unify the sangha (the community of practitioners everywhere). Then we learn how mindfulness and concentration bring us insight, the doorway to the wonders of life.
Three energies of the Buddha—mindfulness, concentration, and insight
"One in-breath and one out-breath"
Guiding the mind out of fear and sorrow … and home to the body
Experience a Reality Beyond Separation, Illusions, and Fear
Session 2: The Insight of Co-Being
One of the greatest insights that arise out of mindfulness practice comes from understanding and then experiencing co-being (or interbeing). In Session 2, we explore this concept and how it provides the ground for many foundational Buddhist concepts such as The Four Noble Truths, The Three Jewels, and karma.
Transcending all notions
Death is nothing to fear
The Three Jewels—the Buddha, sangha, and dharma
Transform Yourself with Every Step You Take
Session 3: Mindful Walking
Every time you walk can be an opportunity for the energy of peace and mindfulness to penetrate your body. Walking mindfully allows you to touch the miracles available in the present moment. This session explores the practice of walking meditation and other everyday activities as a way to generate the energy of mindfulness
The miracle of walking on earth
Arriving with Every Step—a walking meditation
We are all continuations
Heal Your Emotional Wounds Through Self-Kindness and Awareness
Session 4: Working with Emotions and Mental Formations
This session helps us to shine a light on our emotions and mental formations, so that we can guide and take care of them consciously. We'll look at how the positive and negative seeds within can be tended to like plants in a garden, and how to work with our feelings and thoughts in a healthy and productive way.
Working with strong emotions
Watering the positive seeds within you to bring them to fruition
Liberating ourselves from our afflictions
Reconcile and Reconnect with Those You Love
(and Those You Don't)
Session 5: Mindfulness in Our Relationships
In relationships we gain the opportunity to develop compassion in a meaningful way. Here, we uncover how we're hurt by our loved ones and how our actions in turn can hurt them. We'll learn to shine the light of mindfulness on our relationships, to develop the insight of interbeing—experiencing ourselves not as separate, but as connected.
Love without discrimination
To love is to be aware
Expressing our hurt and pain, to heal and allow our love to grow
Illuminate the False Beliefs and Perceptions That Cause Suffering, to Enter the Kingdom of Wonder and Joy
Session 6: Moving Beyond Our Notions
Through the insight gained from mindfulness practice, we discover that many of our core beliefs may not be what they seem—birth and death, sameness and otherness, even the notion of the "self." This session helps us to begin perceiving an "ultimate reality" that lies hidden beyond our false notions, and to liberate us from the suffering that those ideas create.
Relative and ultimate truth
"The Life of a Flame"—a teaching on "No Coming, No Going"
The Diamond Sutra, on getting out of discrimination, fear, and shame
Tend the Garden of Your Heart and Mind to Germinate Its Many Blessings
Session 7: Watering the Seed of Compassion
Earlier, we learned that we have seeds lying within our store consciousness. When watered, they rise up to the level of consciousness. One of the most powerful seeds of store consciousness is compassion. Through heart-centered listening and loving speech, we germinate and grow it. Here, we learn ways to do this.
The Five Mindfulness Trainings for transforming intolerance, anger, fear, and despair
Bringing about peace in the world
The practice of deep listening
Nourish Your Mind and Body …and Continue Your Transformation for a Lifetime
Session 8: Liberation Through Mindfulness
This session first explores The Four Nutriments: how our consumption of physical and mental "food"—what we eat, read, watch, and listen to—strongly influences us. Then we close by taking a deeper look at The Three Doors of Liberation: specific objects of concentration that can ultimately free us from suffering.
The Four Nutriments
The Three Doors of Liberation—emptiness, signlessness, and aimlessness
Closing teachings and practices
Meet One of the Most Revered Dharma Teachers of Our Time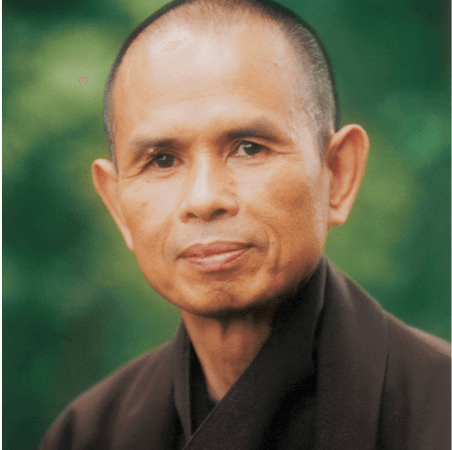 Thich Nhat Hanh is a Zen master, scholar, poet, and peace activist, renowned for his powerful teachings and bestselling writings on mindfulness and peace. Dr. Martin Luther King Jr. called him "an apostle of peace and non-violence" when nominating him for the Nobel Peace Prize in 1967. Exiled from his native Vietnam for almost four decades, Thich Nhat Hanh has been a pioneer bringing Buddhism and mindfulness to the West, establishing an engaged Buddhist community for the 21st century.
Sale Page: https://product.soundstrue.com/body-and-mind-are-one/?sq=1
Proof: