Description
Austin Belcak – The Dream Job System
The Dream Job System is a proven, all-in-one system for landing a job you love without connections, without traditional "experience," and without applying online.
INTRODUCING THE DREAM JOB SYSTEM
After spending several months following everyone else's advice, I decided to try something different. Thus, my personal mantra was born: "Only take advice from people who already have what you want."
I started by writing down the criteria for the career I wanted to have, the one I knew I deserved:
Working at a world class company like Google, Microsoft, or Facebook
Living in a big city like New York or LA
Achieving these goals before the age of 26
Over the next 6 months, I found as many people I could that fit the criteria. I reached out to them and picked their brains. As I spoke to more and more of these top performers, patterns started to emerge.
I began to see that these people weren't necessarily smarter than their peers. They just had a different approach. They completely ignored the traditional advice. Instead, they forged their own rules for how the job search game should be played and it completely set them apart from everyone else.
Using the knowledge I gained, I developed a job search strategy that allowed me to go from a medical device salesperson making $42,000 with 1 year of professional experience to getting interviews and offers from Google, Microsoft & Twitter along with a salary of $160,000+ after being in the workforce for less than 3 years.
Hang on…did you catch that?
From $42,000 to $160,000+ in less than 2 years.
Check this out: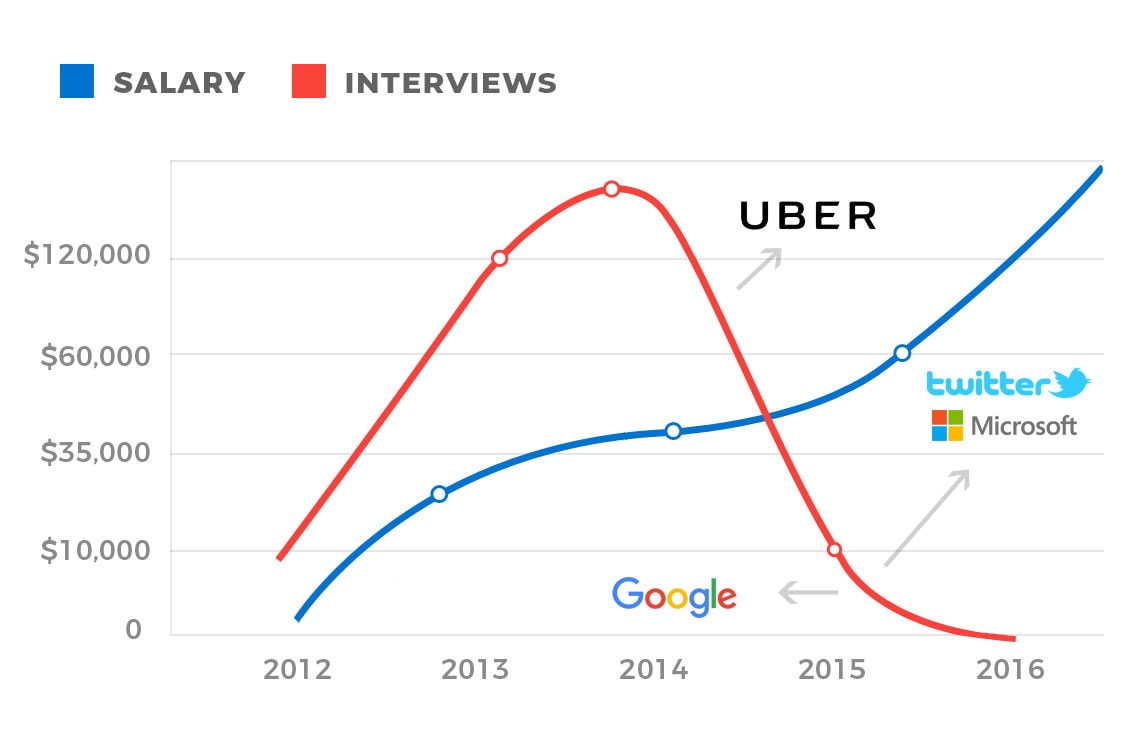 Before this system, I was applying for jobs like everyone else. I applied to over 300 jobs and the result was a marginal bump in salary.
After applying the Dream Job System, I was landing interviews left and right and my offer rate skyrocketed (along with my salary!). I was able to focus on companies that I truly wanted to work for and they were willing to pay me what I knew I deserved.
THE DJS PROCESS WORKS, HERE'S WHY
The Dream Job System is a proven, plug-and-play system that can be used across industries. I developed it by:
Applying to 300+ jobs and going on 50+ job interviews, A/B testing strategies throughout each part of the process: application, interview, salary negotiation, etc.
Taking social & behavioral psychology courses to understand how recruiters and hiring managers think in order to find loopholes that I could exploit.
Spoke to over 30 people who met my 4 criteria: making $100k+, lived in a big city, were under 25 (if they didn't have 5+ years of experience you don't need to either), had the flexibility to work anywhere.
This experience gave me a deep understand of the hiring process from end-to-end, and allowed me to develop a formula that actually gets results instead of following the beaten path you're "supposed" to take. By the end, I knew:
01.

Exactly what to put on my resume to make sure that it not only got read, but made recruiters excited to reach out to me

02.

Build relationships with high profile influencers who referred me into roles and advocated for me throughout the entire interview process

03.

The exact answers I needed to use to make interviews love me – not only what to say, but when and how to say it

04.

How to spin my non-traditional background as a HUGE advantage (I didn't have the "right" college degree, a good GPA, or industry experience. I was an outsider.)

05.

Negotiation strategies that the best salespeople in the world use to close hundreds of millions of dollars of business each year in the most competitive industries, which allowed me to increase my salary 200%+
HERE'S WHAT YOU GET WITH THE DREAM JOB SYSTEM COURSE
DJS comes with 9 modules, 70+ videos, 2 bonuses, and 25+ hours of content. Here's a breakdown of what you get with each module:
Module #1: THE UNCONVENTIONAL JOB SEARCH BLUEPRINT
Introduction & what to expect from the course
Discover why 99% of people fail to land jobs they love
Reveal my 7 step "Dream Job System Blueprint"
Leverage my "Find Your Why" formula to discover the right career path and role for you (even if you have no idea what you want to do!) [Templates Included]
Module #2: YOUR RESUME
Learn how to transform your resume into an interview generating machine
Revealing my proprietary process for writing highly effective resumes that both ATS systems and hiring managers love
Discover how to choose the right resume template, identify the right resume keywords, leverage formatting, & writing value-driven resume bullets [9+ Templates Included]
Module #3: YOUR COVER LETTER
Answering the question of "do Cover Letters still matter?"
Learn my 3 step framework for writing a crazy effective cover letter in 30 minutes
Breakdown of real Cover Letters from real people who landed jobs at companies like Google, etc.
Access to my proven Cover Letter Template [2 Examples Included]
Module #4: HOW TO LAND A REFERRAL WITHOUT APPLYING ONLINE
Discover how to statistically guarantee yourself a job offer using my "Pipeline Technique" [Template Included]
Use my "Dream Role Profile" to score the roles you find vs. your values and your career goals [Scorecard Included]
Learn how to identify target companies that will be scrambling to hire you
Learn how to identify contacts who can influence your ability to get hired at those target companies
Deep dive into my research process for learning everything about public & private companies
Module #5: MY PSYCHOLOGY-BACKED RELATIONSHIP FORMULA
Discover my 5 research-backed relationship building principles
Leverage the 90:9:1 Rule for starting strong relationships
Learn my process for become a highly effective cold emailer [Templates Included]
Break down the 5 most effective relationship building strategies, including my "Goal Getter," "Show Me You Know Me," & "Testimonial Method" tactics
How to use the Dream 50 technique to turn total strangers into referrals and advocates [Worksheet Included]
Module #6: VALUE VALIDATION PROJECTS
Discover the single most effective tactic for landing a dream job (this is my "secret sauce!")
Create a project that makes your value irresistible and crystal clear to recruiters and hiring managers
Learn 5 unique ways to come up with a killer Value Validation Project idea
Break down my process for creating an high quality Value Validation Project for free!
Deep dive into 5+ Value Validation Project Examples from real students at companies like Microsoft, Instagram, AirBnB, Twitter, & more [Projects Included]
Module #7: JOB-WINNING INTERVIEW PREPARATION
Revealing the science behind my research-backed interview preparation strategy
Discover the 7 core interview questions you'll be asked in 90% of interviews
Learn how to craft and deliver interview answers that will blow your interviewer away [Examples Included]
Proven frameworks for answering trick questions like What's Your Biggest Weakness?, Tell Me About Yourself?, and How Many Golf Balls Can Fit Inside of a 747 Airplane? [Templates Included]
Learn the secret to "turning the tables" and using your non-traditional background as an advantage over other candidates
Module #8: PSYCHOLOGY-BACKED INTERVIEW DAY STRATEGIES
Learn how 3 simple principles of behavioral psychology will allow you to get inside your interviewer's brain and help you build a strong relationship with them
Utilizing Conversation Ratio to leave a positive impression on your interviewer down to the molecular level (seriously…I'll show you the science behind it)
Illustrating how The Recency Effect can allow you to choose exactly what our interview remembers about you
5 psychologically-rooted questions I asked every interviewer and the breakdown of why they are so powerful [Templates Included]
Module #9: MAXIMIZING YOUR SALARY & COMP PACKAGE
Learn the salary negotiation strategies that DJS students have used to boost their salaries by an average of 36% – 44%
Leverage a simple framework to control the conversation when your future employer asks about your salary expectations
Discover the different types of negotiators and the specialized techniques you can use to be successful with each type
Share other forms of compensations that you can negotiate beyond salary (that might actually be worth more!)
Sale Page: https://cultivatedculture.com/djs-course/
Proof: