Description
Piranha Profits – Price Action Manipulation Course Level 1
PRICE ACTION MANIPULATION COURSE. Learn How to Decode Stock Market Manipulation and Profit Alongside the Market Makers.
Ever entered a good trade where everything met your trading rules, only to see a sudden price U-turn flush out your stop-loss before reversing back up? You've just witnessed market manipulation at play.
Unknown to 90% of retail traders, market makers can see the position of all trade orders and forcibly squeeze prices down to take out your stop-losses.
Who Are Market Makers?
Market makers are big market players who have the financial muscle to fund sheer volumes of trades — even when there's no ready buyer or seller. In doing so, they literally "make the market".As middle-men of all trades, market makers profit by falsifying supply and demand. By buying and selling high volumes of stocks, they have the power to "print" candlesticks to create sudden price hikes and plunges.
These are what the industry calls "bull and bear traps", and it's how the big boys make money off retail traders like us.
If price charts can be easily manipulated,
how can we win?
Our biggest opportunity is not to go head-on against the big players, but to spot their intentions and trade alongside them. As the saying goes… "If you can't beat them, join them!"
Price manipulation is very real. The good news is: there's a way to profit alongside the market makers.
Look at this LMT chart from March 2021. Thinking the price would bounce off the 200 MA support, unsuspecting retail traders placed their stop-loss at $333.32 (at the low of the bullish green bar).
That's where market makers set up a bear trap to hunt their stop-losses.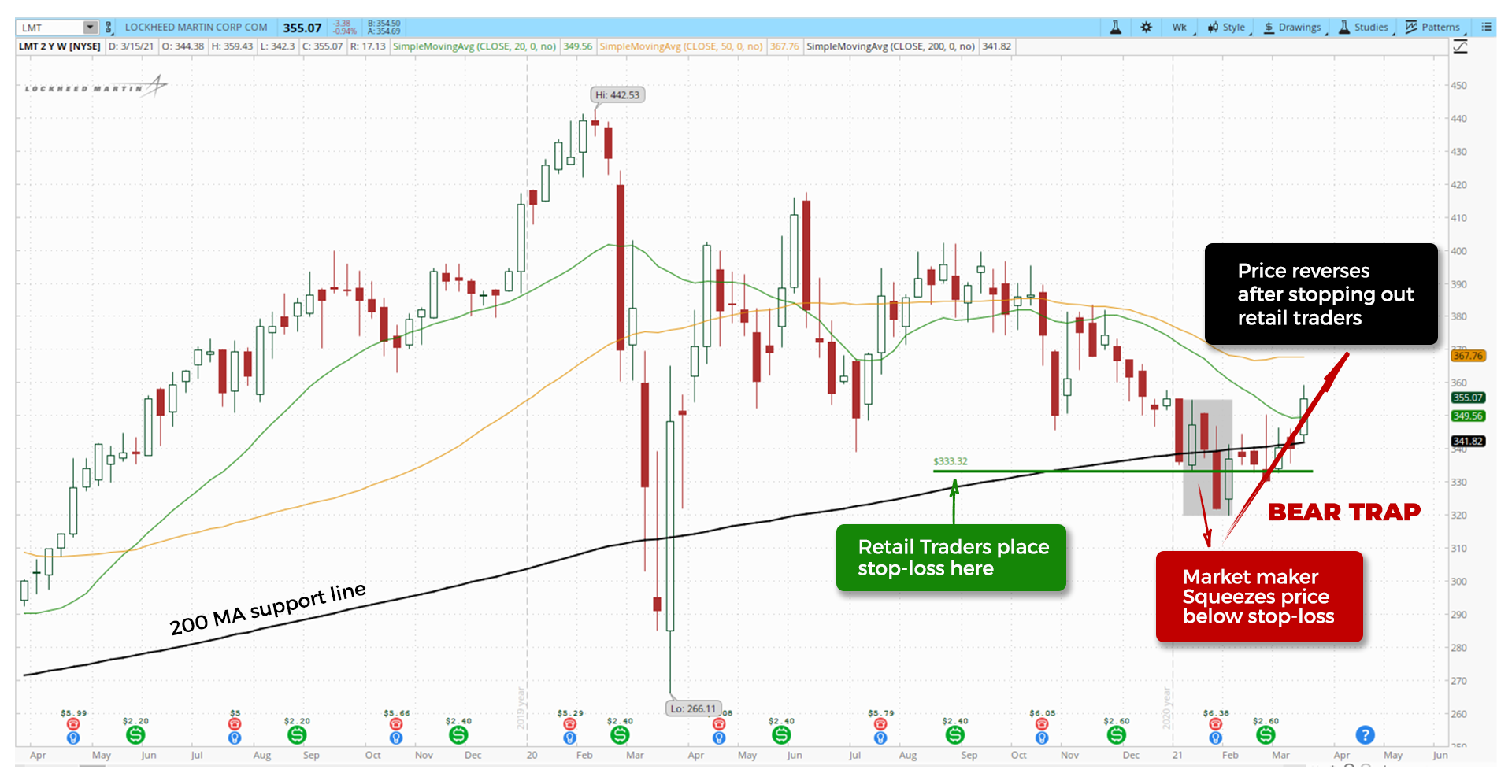 This is exactly what professional trader Alson Chew discovered during his 5-year career trading at the proprietary desk.
By combining >20,000 hours of live trading experience and tactics from market insiders, Alson developed the Price Action Manipulation™ strategy to decode these deceptive patterns.
Imagine if you could think like a market maker, know exactly when they twist prices, and enter and exit your trades alongside them. You'd be able to pinpoint profitable setups with high probability and greatly improve your win rate.
Once you learn these strategies, you'll never second-guess your trade decisions or get trapped like a retail trader again.
INTRODUCING…
Price Action Manipulation Course by Alson Chew
This is the first and only trading course in the world that teaches retail traders how to decode price manipulation by market makers and profit from it. Developed by former proprietary trader Alson Chew, the proven PAM™ strategy has generated over USD 1 million in trading profits.
Suitable for both seasoned and aspiring traders, PAM™ gives you the professional's advantage to navigate deceptive market scenarios. You'll learn the most practical, plug-and-play tactics that help you make a consistent trading income.
Sale Page: https://www.piranhaprofits.com/courses/price-action-manipulation-level-1?hsLang=en
Proof: